Healthcare. We Care.
Menu
Get to know the Aspen API sales managers! Interview with Blandine Le Tallec – Sales manager Aspen API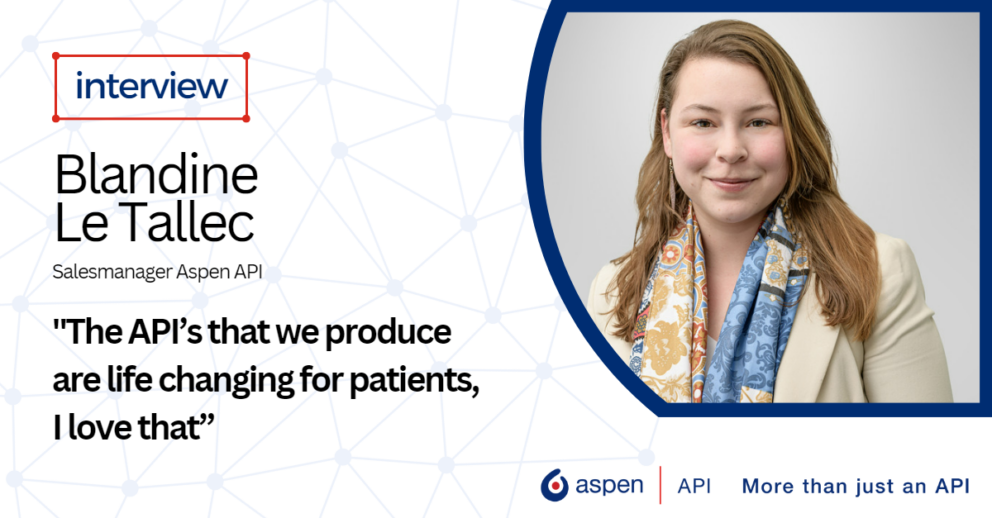 Published 21 Jun 2023
"The white powder we produce can change someone's life. Maybe even save them. I love that."
Blandine has been working at Aspen API since December 1, 2022, we are happy to introduce her to you. She is based in Oss, the Netherlands, and lives in the western part of the country. "I have been living in the Netherlands for about 10 years now. Before that I lived in France and Germany, I'm half French, half Dutch"
I find the API world fascinating. Partly because the API business is so globalized. A patient may not know this, but most medicines are not produced in the country where they are bought. Most API's, the active substance in medicine, are produced thousands of kilometres away. This applies to products like Paracetamol, but also to life-saving medicines like antibiotics. This is completely different in other industries. For instance, you know exactly where a product like a t-shirt comes from. And you as a customer can influence that as you have freedom of choice. For medicines, you don't have this choice. The complexity of the supply chain of medicine is an ongoing challenge and an opportunity at the same time.
I studied microbiology in Leiden. After my studies, I decided to start working for an API producer. The production, supply and commercialization of APIs fascinate me. I am also very excited about Aspen API's portfolio, especially the APIs for contraception, hormonal therapy and pain medication. The white powder that we produce, can change someone's life. Maybe even save them. I love that.
I haven't worked at Aspen API for a very long time yet and I'm looking forward to learning even more about the company, the team and our APIs. And of course, I look forward to meeting all our customers!