Healthcare. We Care.
Menu
Get to know the Aspen API sales managers! Interview with Norman van Zoggel – Senior sales manager Aspen API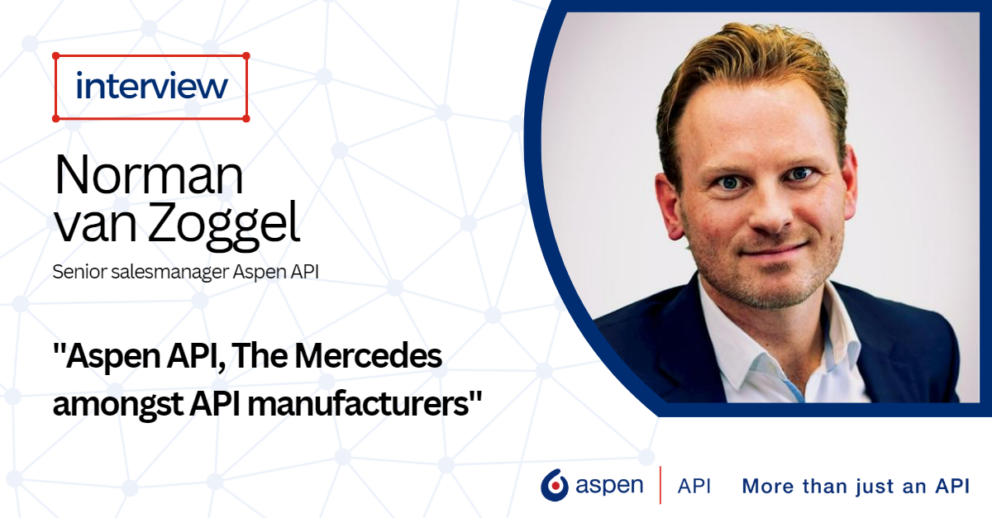 Published 13 Jun 2023
Aspen API is the Mercedes among API manufacturers
"I have been working in pharma for more than half my life! I studied Commercial Economics at the HEAO, I graduated in 2000. That year, I got a temporary contract at Diosynth. And I never left. I experienced many changes, first we belonged to Akzo Nobel, the Dutch multinational. Then we were owned by American companies for a while and since 2013, we have been part of Aspen Pharmacare in South Africa. In terms of responsibilities, a lot has changed for me as well. I started as Assistant Sales Manager, then became Account Manager and now being a Senior Sales Manager for several years.
Customer contact
Especially customer contact is important in my job. At Aspen API, we have many long-term relationships with our customers. This allows us to go in-depth together and create a real partnership. I am the first point of contact for our customers in my region, mainly the European countries. I am also in touch with prospects. In all cases, customer centricity and common interest are key focus points.
Covid-19
Take the corona period, for example. Delivery reliability was a challenge for many producers. Aspen API really performed flawlessly by being close to the customer – digitally – and continuing to deliver. I am proud of that achievement.
Reliability and high quality
Our products are also very important to me. I must be able to stand behind our products. And I can do that at Aspen API. We are a high-quality player in the API world. We are not unique in what we do, but we are reliable, and our products are of high quality. This is confirmed every time during customer interviews and GMP audits at our production sites.
Global Health
Then there are the ethics of the pharmaceutical industry. With our APIs, we contribute to global health. Of course, we are only a small part of the whole chain. But we are an important part, and that is a real added value for me. Pharma is a complicated and challenging industry. We are subject to a lot of change and the bar is getting higher and higher. This offers both Aspen API and me great opportunities. I continue to learn and develop myself almost daily.
Aspen API's future
Aspen API is taking positive steps towards the future. We are investing and we have great ambitions. It feels good to work for an ambitious company. A company that wants to be and remain one of the top API producers.
Aspen API is the Mercedes among API manufacturers
My motivation in my daily activities? Making sure that the customer is nothing but satisfied with Aspen API. And that they see us as their "supplier of choice". To me, Aspen API is the Mercedes among automotive brands. We are not low-priced; however, we do offer our customers good service and excellent quality. Our customers have high expectations, and rightly so. Meeting these expectations every single day, that's what I live for.