Healthcare. We Care.
Menu
Get to know the Aspen API sales managers! Interview with Janice Rissley – Sales manager Aspen API Inc.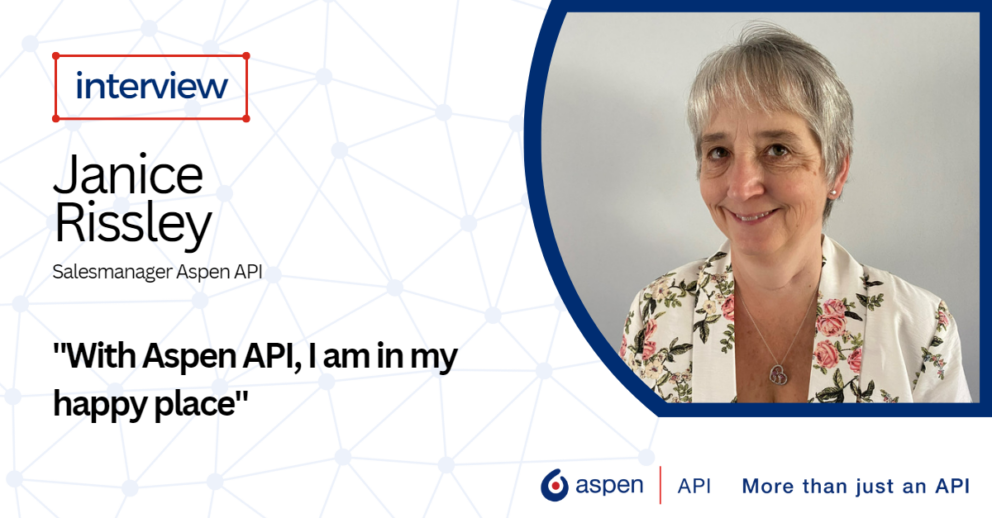 Published 6 Jun 2023
"With Aspen API, I am in my happy place"
My name is Janice Rissley and I've worked in the API business for nearly 30 years. In 2020, I decided to retire, since I had a lot going on in my personal life. So, I took some time off. That lasted for about 2 years and then I decided to return to the business. Because I really missed it.
Customer Care
The best part of my job is helping my customers with their needs. I love dealing with my clients and when Aspen API reached out to me, it fit right into my wheelhouse. Aspen API works with generic APIs and that's exactly what I did in the past. So now, the majority of my customers are customers that I dealt with before. That is so exciting, I really have that good feeling and vibes back and I am so happy about that.
Every step is a commitment to finding cures
I am someone who overall enjoys helping people. I do a lot of walks for Susan G. Koman, the breast cancer foundation in the US. They raise money and awareness by organizing 3-day walks. You walk either 20, 40 or 60 miles, to commemorate a loved one who suffered from breast cancer.
I've participated in over 13 different cities and raised over 50,000 dollars myself. As they say: Every step is a story of walking together to end breast cancer. And every step is a commitment to finding cures. Which is something Aspen API does as well: finding cures, helping people.
My happy place
With Aspen API, I am truly in my happy place. Helping people brings me so much joy. I love how my purpose comes together with the purpose of the company I'm working for.