Healthcare. We Care.
Menu
Gold Medal for Aspen API in EcoVadis Evaluation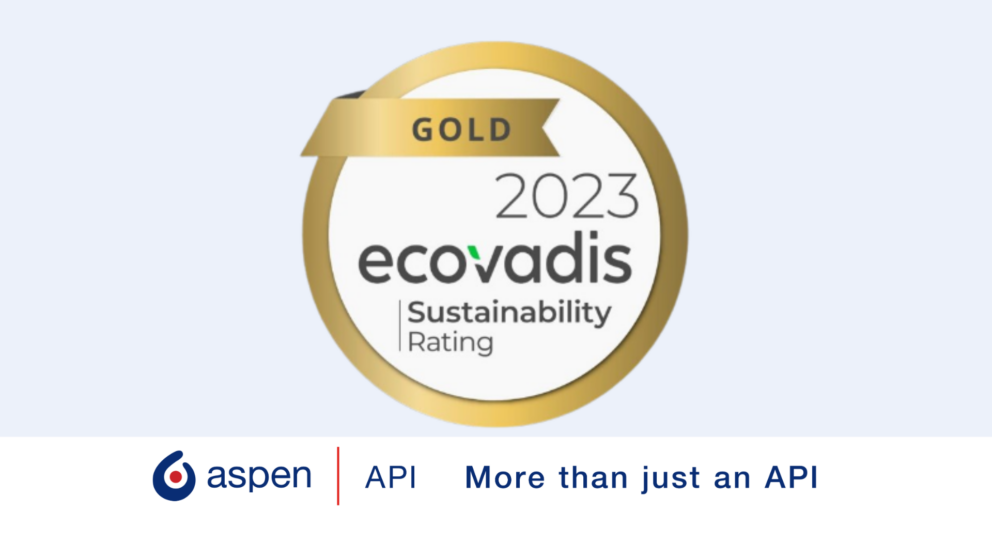 Published 31 Oct 2023
At Aspen API, we continuously strive for sustainability and responsibility in all our business practices. Recently, our API facilities, both in South Africa and Oss were re-evaluated by EcoVadis. We are delighted to share that we not only maintained our gold status, but also strengthened it. Our recent achievements reflect our dedication to sustainability and our ongoing efforts to lead the rankings.
A Golden Achievement
Just like last year, we participated in the EcoVadis evaluation and once again secured a gold medal. Despite stricter criteria, we improved our score compared to the previous year. We now belong in the top 1% of companies assessed by EcoVadis in the production of pharmaceutical products. This is a clear recognition of our commitment to sustainability and our continuous efforts to be at the forefront of our industry.
About the Evaluation
EcoVadis is a renowned sustainability assessment platform that evaluates companies based on their policies and actions related to the environment, labor and human rights, ethics, and sustainable procurement. The EcoVadis team consists of international sustainability experts who analyze and verify company data, taking into account the industry, size, and geographic location of each company. They consider supporting documents and 360° Watch Findings in their evaluation.
This positive assessment is a source of pride for our company but also evidence of the dedication and efforts of all our employees. It demonstrates that sustainability is an integral part of who we are and what we do. We will continue to strive for the highest standards in sustainability and hope for even more success in the future.
Together, we make a difference and work towards a better world."